Dieting is not effective in controlling weight. It has never worked and it never will. The New Neuropsychology of Weight Control is not a diet but a complete lifestyle management system that teaches you how to get rid of your excess body fat by eating plenteous amounts of healthy and nutritious food and to keep the fat off for the rest of your life.
Diets Make Your Fat.
The core concept behind the program is that dieting defeats its own purpose. Low calorie dieting triggers your brain's starvation response. The weight you lose is mostly muscle and water and very little fat.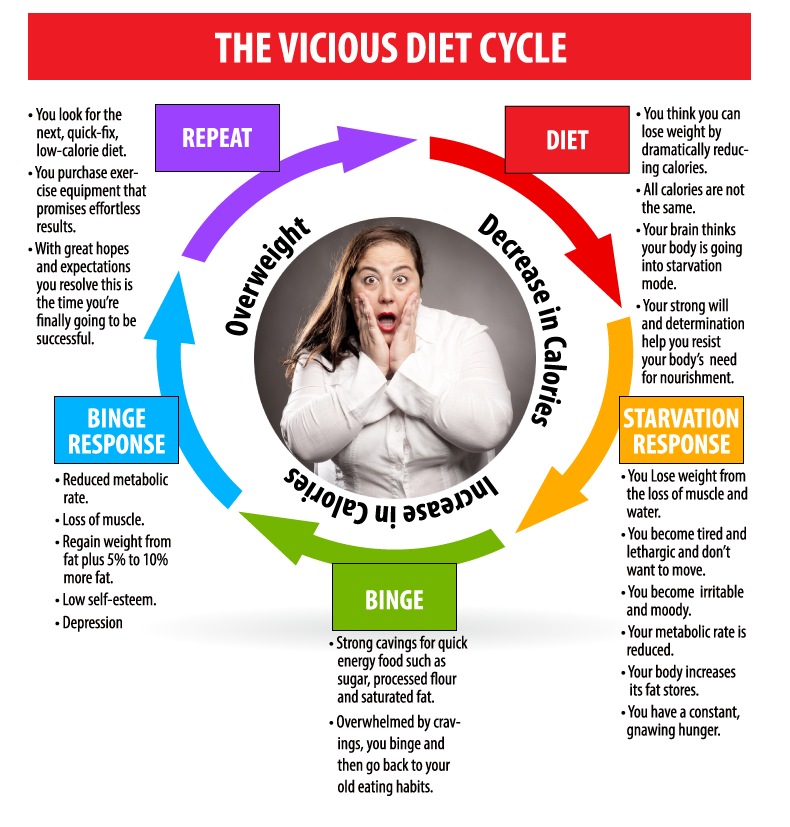 To protect you from starvation your brain then activates your cravings for quick energy (white) foods such as sugar, refined flour and saturated fat. The cravings get so strong you eventually give in, binge and continue eating larger and larger quantities of white food.
You feel terrible about yourself, gain all the weight you lost back plus 5% to 10% more in the form of added fat. You repeat this cycle many times throughout your life until you end up heavier than you ever thought possible and believe you can't change.
You feel like a failure. The fad-based starvation diet industry makes you feel like a failure.
But you haven't failed. Do you know how much will-power and discipline it takes to starve yourself?
The diets have failed you. Only by giving up dieting can you begin to achieve the kind of lean, healthy body you've always wanted.
Your Brain Has a "Fat Thermostat" that Protects You from Starvation
The amount of fat in your body is controlled by a weight regulating mechanism in your brain called the "fat thermostat."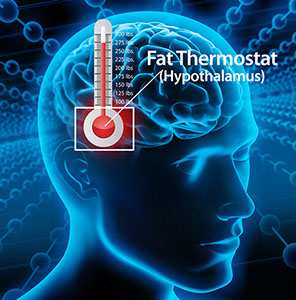 Your fat thermostat works by controlling hunger and by directing a number of protective bodily functions that can either increase or reduce you body's fat stores. The fat thermostat is basically a survival mechanism that allowed our ancestors to live through various famines. They passed these fat-storing survival tools (genes) on to us.
Just as the thermostat in your home keeps the room temperature at the level at which you set it (setpoint) your fat thermostat tries to keep your body fat at its setpoint level. If you eat less food than you need (i.e., low-calories diet) , within a few hours your fat thermostat kicks into gear to make you feel hungry. Your hunger becomes progressively worse with continued deprivation and evolves into almost uncontrollable cravings.
After a short time of food reduction, your fat thermostat begins to direct your body to conserve energy (you get tired and lethargic). It protects your fat stores and increases the rate at which fat is stored once enough food becomes available—when you go off your diet—you binge and go back to your unhealthy eating habits.
With this understanding it is easy to see why dieting has been a total failure in controlling your weight on a long-term basis.
The Good News: Your Fat Thermostat Can Be Programmed to Burn Fat and Make You Healthy, Lean & Energetic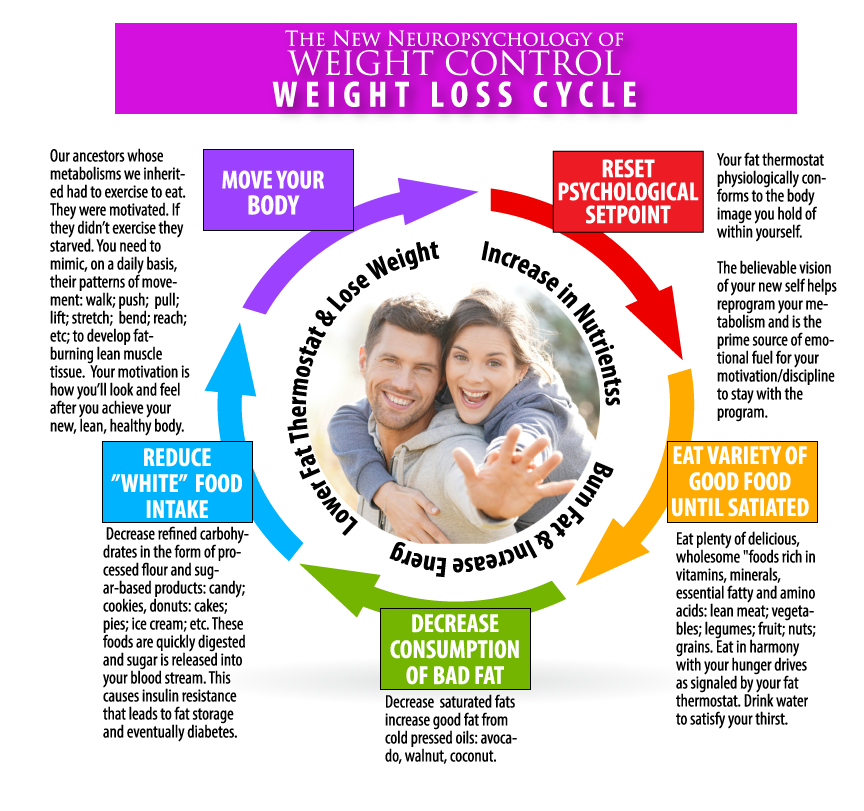 The good news is the setpoint of your fat thermostat is not fixed at a certain weight level. It can either be increased (we gain more fat) or lowered (we burn more fat and become lean). The key to successful weight management is to understand the things that lower your fat thermostat's setpoint, start doing those things and stop doing those things which keep it too high and keep you overweight and unhappy.
The New Neuropsychology of Weight Control teaches you, in an easy-to-understand and easy-to-follow program, how to lower your fat thermostat—lose all of the excess fat your body doesn't need—by eating plenteous amounts of delicious, nutritious food. And it teaches your how to keep the weight off for the rest of your life.
With The New Neuropsychology of Weight Control you'll have the knowledge, tools and power to reprogram your fat thermostat and your "Psychological Setpoint" (CLICK TO LEARN MORE) to burn fat—to finally make you lean, healthy and energetic.
Only 10 Days for the Rest of Your Life
The study of our 1.3 million customers tells us if your can consistently apply the principles of The New Neuropsychology of Weight Control for 10 days, there's a 90% probability that you'll be able to reach your weight loss goals, make the principles a life-long habit, and be lean and healthier for the rest of your life.